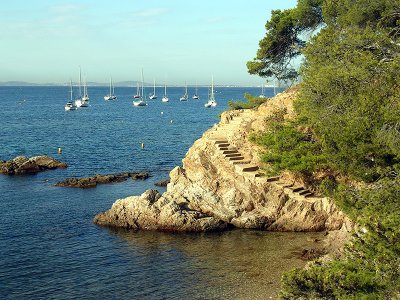 The beaches of the Côte d'Azur
Known worldwide for their beauty and sublime villas, the beaches of the French Riviera are just 20 minutes from your charming hotel in Pierrefeu-du-Var.
We recommend taking a stroll on the beaches of Hyères and La Londe les Maures.
Stay in a hotel near Hyères to enjoy its beautiful beaches
Enjoy swimming, sunbathing, family picnic walks, beach games or board sports on the different beaches of Hyères. The choice is quite wide and you can even change location depending on the sunshine, the wind ...
Enjoy the sunset, sheltered from the wind, on the very large Almanarre beach, 5 km long.
The peninsula, on the Madrague side, is perfect for families, with its shallow waters, just like the beaches of La Capte, La Bergerie or La Badine … recommended on mistral days.
The most paradisiacal are perhaps the beaches of Porquerolles : Notre Dame, la Courtade, the Argent beach ! A breathtaking beauty shared with those of Port Cros, which can be reached by pretty walks: Palud beach and South beach.
Enjoy the beaches from your hotel near La Londe Les Maures
The 5 beaches of La Londe Les Maures are all more enchanting than the others: the Pellegrin beach is within walking distance, the Miramar beach will delight families, the Argentière beach is the most extensive, the beach de l'Estagnol is close to Bormes Les Mimosas, Tamaris beach has fine sand and Pansard beach is just after the Bastidon pine forest.